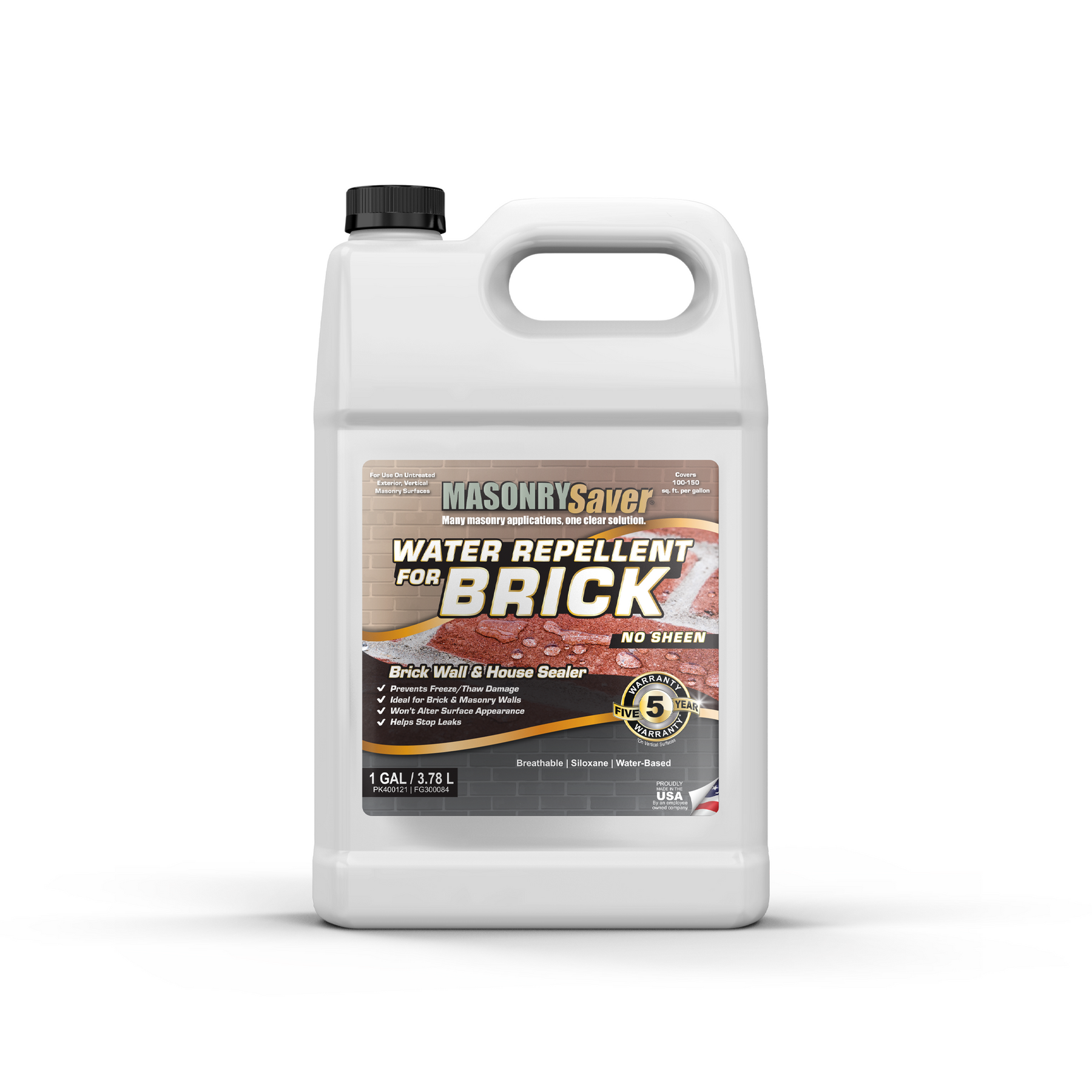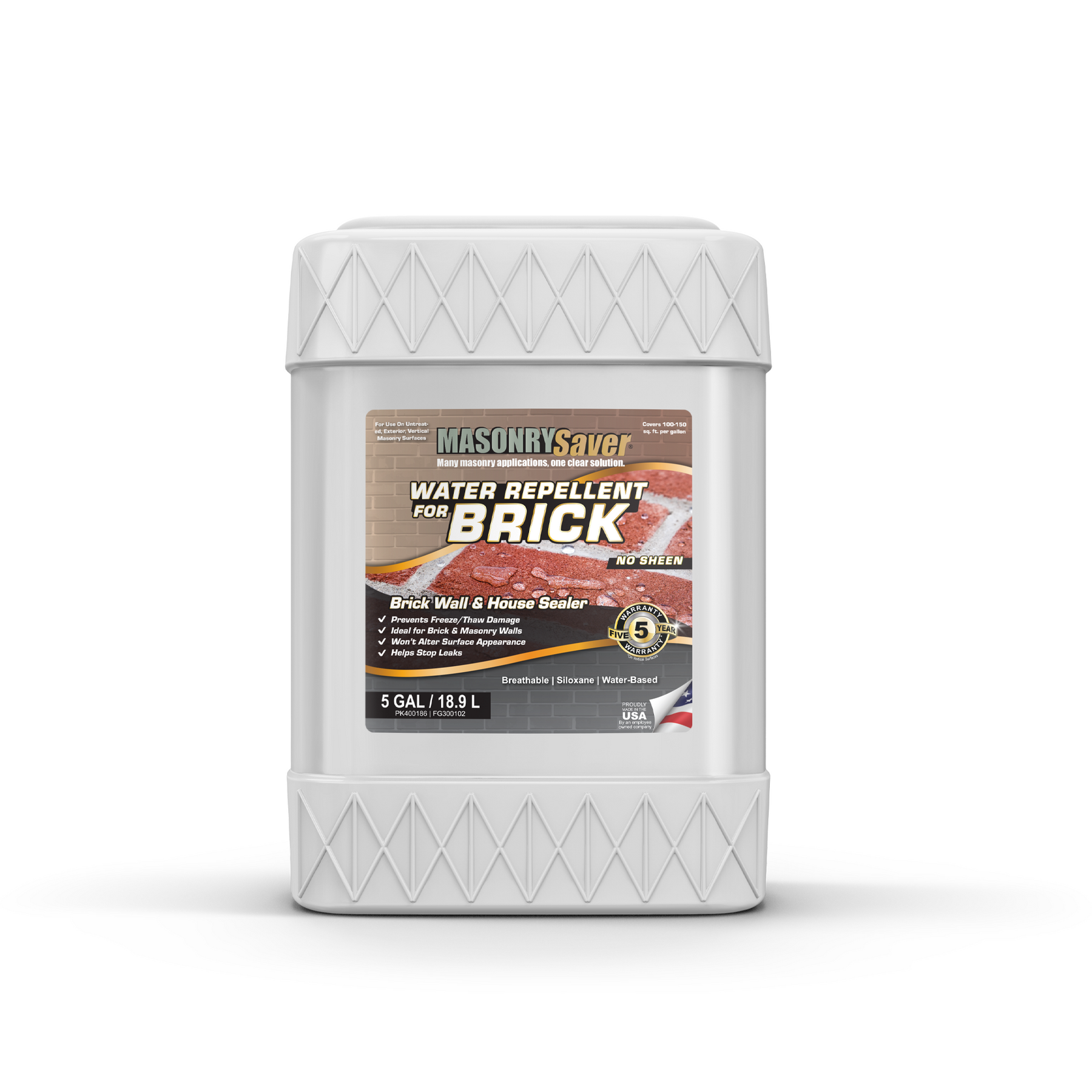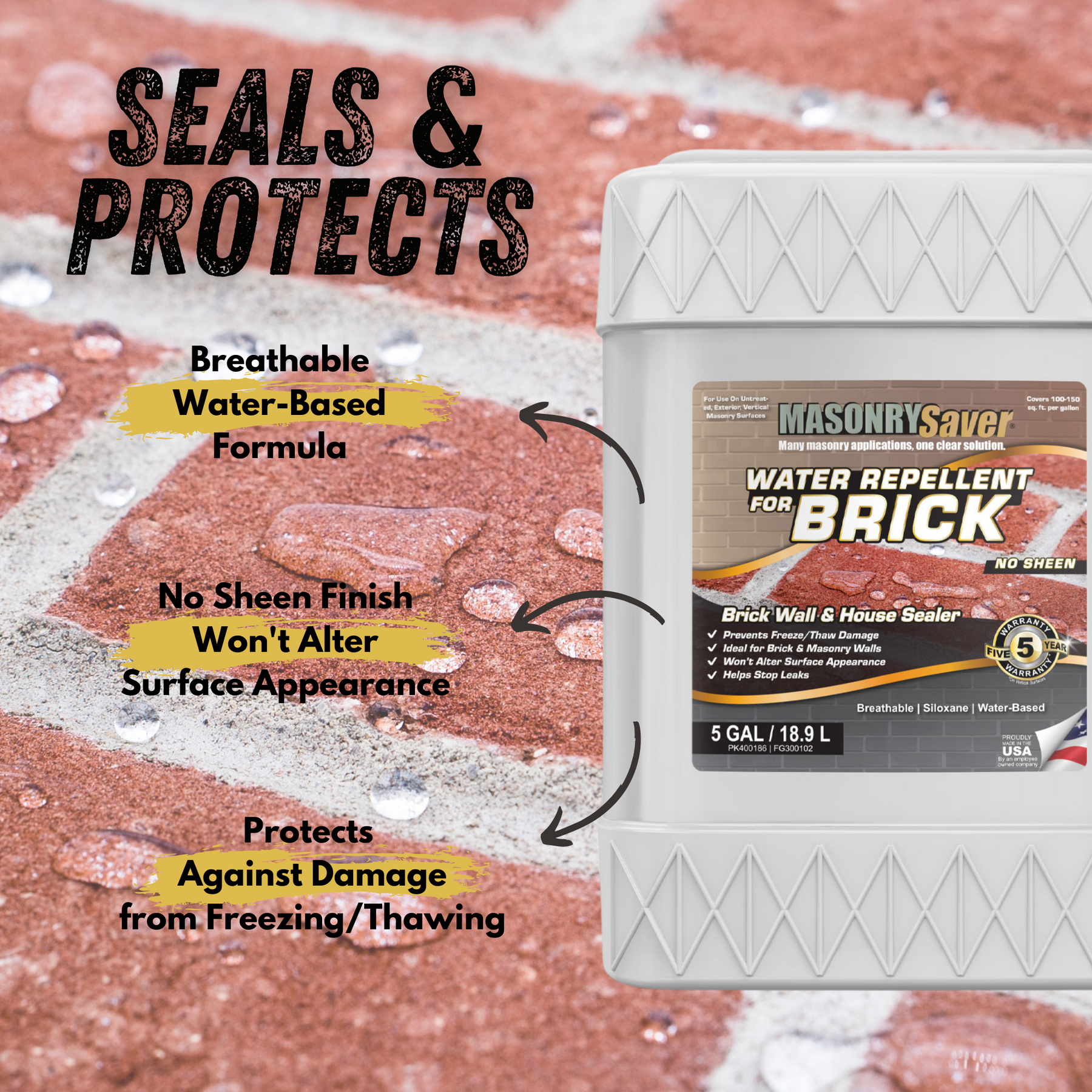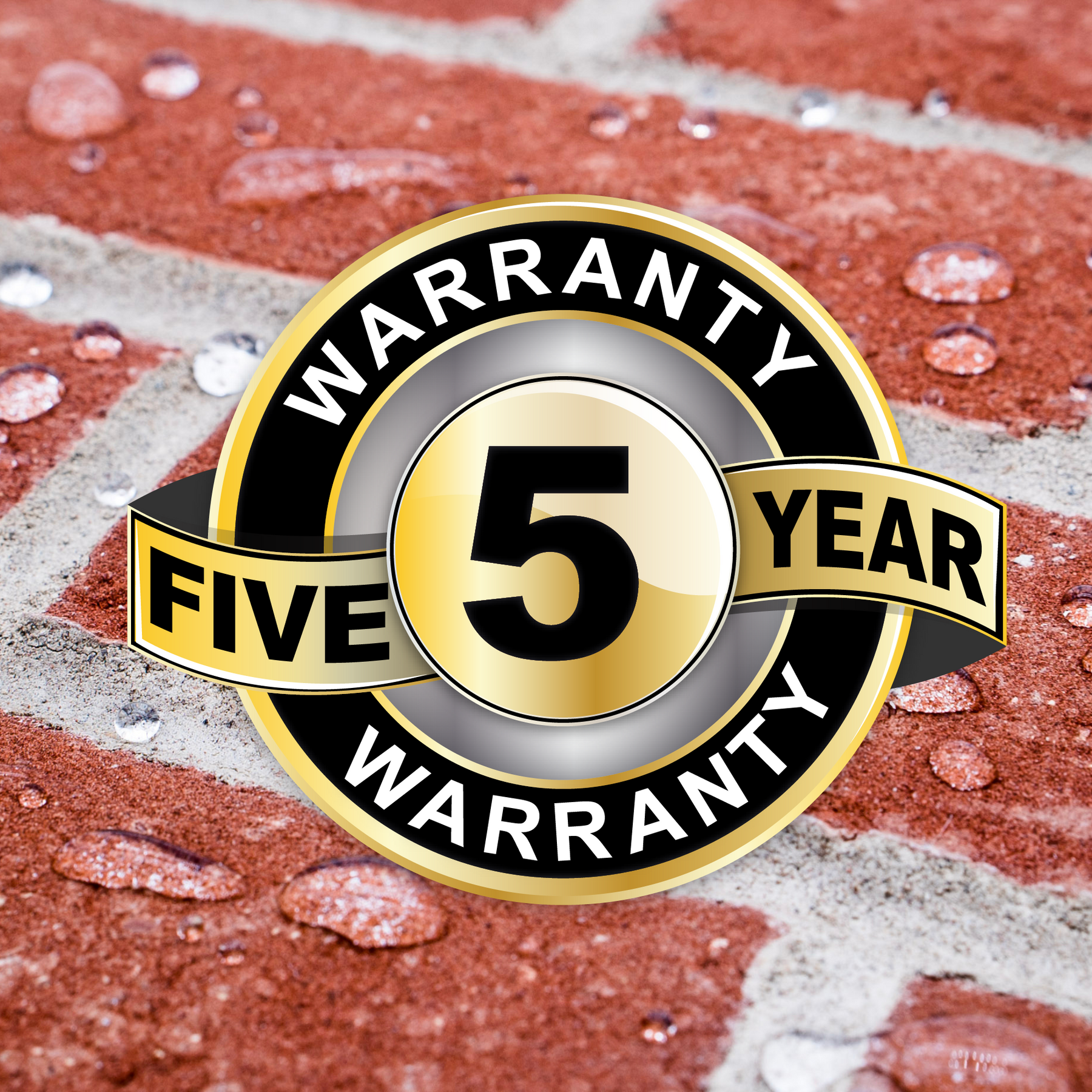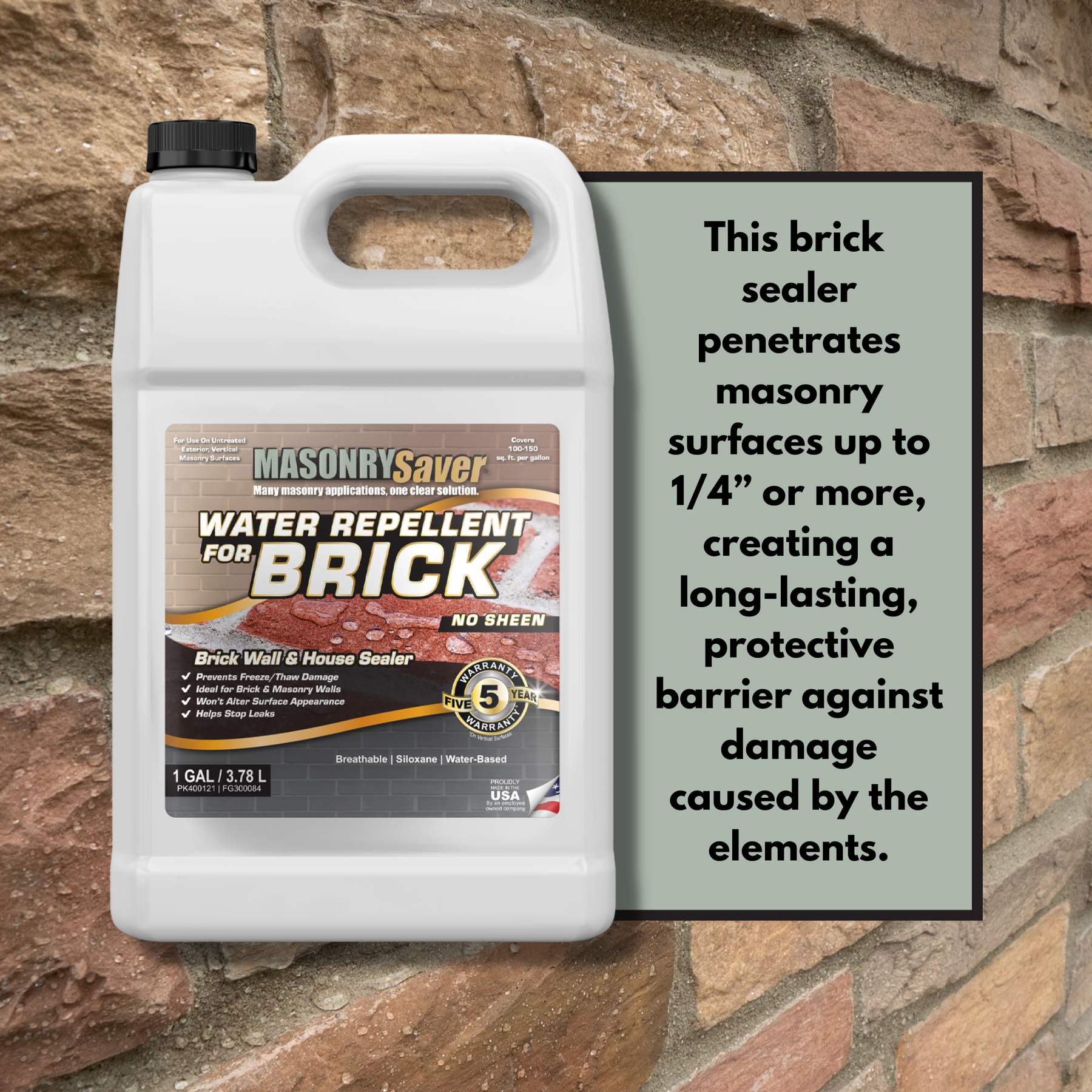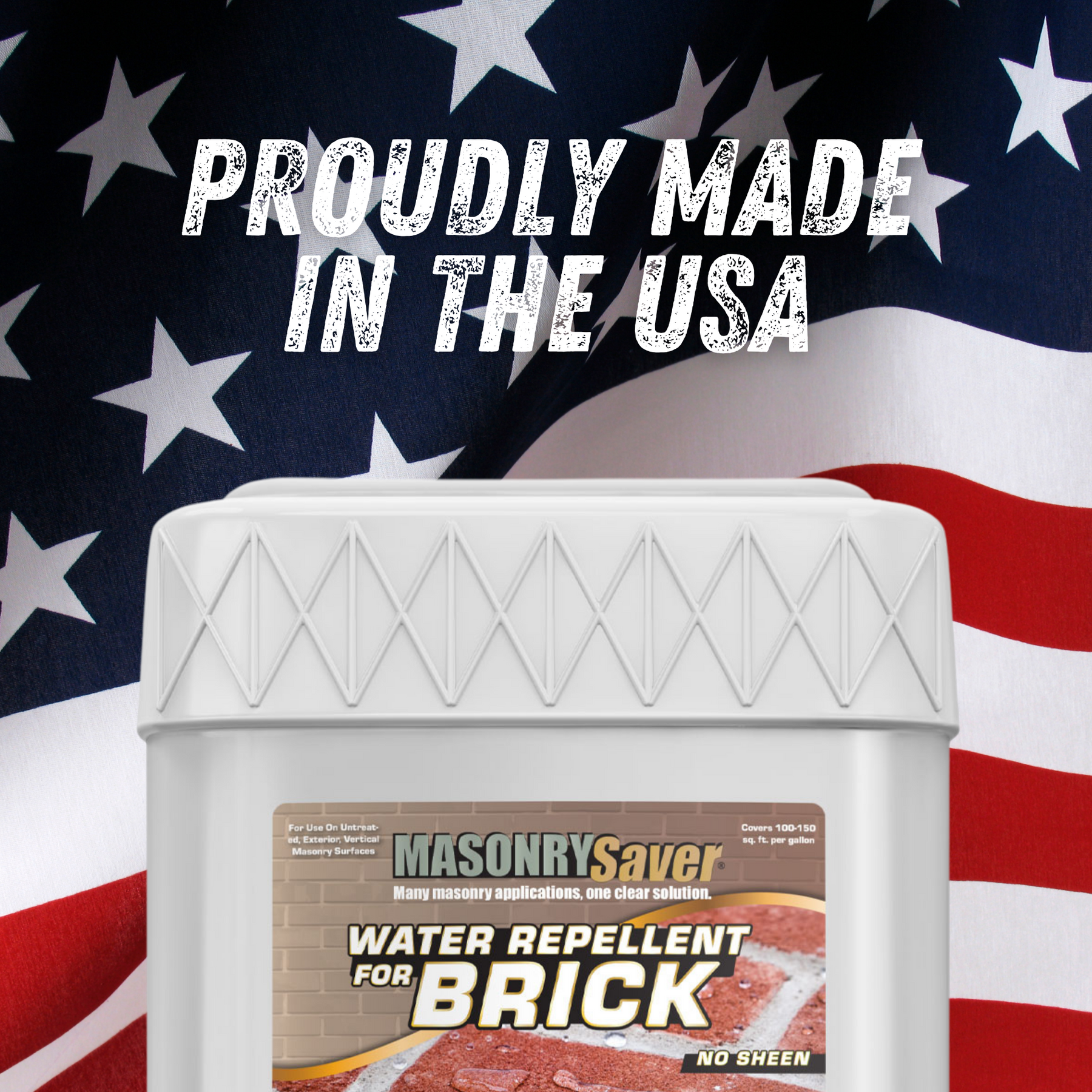 Water Repellent for Brick
Protect & Seal: Ideal for All Untreated Masonry Surfaces Including Chimneys, Exterior Masonry Brick Walls, or other Vertical, Natural Stone Surfaces
Long Lasting Protection:

 5

 Year Warranty on Vertical Surfaces
100% Breathable Water Repellent: Keeps Water Out, but Allows Trapped Moisture to Escape, Preventing Spalling & Cracking Due to Freeze/Thaw Damage
Prevents Damage: Defends Brick Against Cracks, Spalling, & Flaking (De-Lamination)
Easy to Use:

 

Apply with Pump Sprayer or Paint Roller
Easy to Clean Up: Simply Clean Up with Soap & Water 
 WARNING: This product can expose you to 1,4-dioxane, which is known to the State of California to cause cancer, and Ethylene oxide, which is known to the State of California to cause birth defects or other reproductive harm. For more information go to www.P65Warnings.ca.gov.
MasonrySaver Water Repellent for Brick is a water-based siloxane water repellent that seals and protects most vertical masonry surfaces.
This brick masonry sealer penetrates masonry surfaces up to 1/4" or more, creating a long-lasting, protective barrier against damage caused by the elements.

This product will not alter surface color or appearance, with little or no gloss created. Slight darkening may occur on dense surfaces. Testing is recommended before treating any surface to ensure desired results. It is ideally suited for use on exterior, above-grade masonry surfaces including brick, stone, limestone, sandstone or other untreated, natural stone materials.
MasonrySaver Water Repellent for Brick reacts with the minerals in masonry in the presence of ultraviolet light and atmospheric moisture. This reaction forms strong permanent bonds beneath the surface and creates a hydrophobic zone that prevents water molecules from penetrating, while allowing free migration of water vapors. The chemical bonds formed in this process allow MasonrySaver Water Repellent for Brick to become an integral part of the substrate and provide long-term water-repellent protection.
MasonrySaver® Water Repellent for Brick is an architectural grade product that meets all industry guidelines for selection of commercial water repellents for vertical brick surfaces. This high performance penetrating silane/siloxane blend bonds with the minerals in brick to provide long-lasting water repellency. Water Repellent for Brick is breathable, non film-forming, and will not alter surface color or appearance.
DIRECTIONS FOR USE
Surface and air temperatures should be a minimum of 40°F. Do not apply to frozen or frost covered surfaces. Application must be to clean, sound, dry to slightly damp surfaces. Do not apply to wet or water saturated surfaces, or when rainfall is expected within six hours.
SURFACE PREPARATION
Remove dust, dirt, grease, oils, efflorescence, wax, curing compounds, coatings or other foreign matter that might block or interfere with product penetration. When tuckpointing has been performed, allow at least three days cure time prior to applying Water Repellent for Brick. Test a small area of surface before starting general application to assure desired results and coverage rates. Provide adequate ventilation if applied indoors.
APPLICATION
Vertical: Apply with low pressure "garden type" pump-up or airless sprayer. Flood surface until excess runs down six to eight inches below spray. To assure optimum performance, a wet-on-wet application is recommended; apply second coat within three to five minutes. A wet treated surface may be agitated with a soft bristle brush to ensure even distribution and greater penetration. Protect adjacent paint films, windows, plant life, asphalt-based material and all non-targeted surfaces from overspray. Remove overspray immediately with soap and water.
Horizontal: Apply a single application with low pressure spray so that surface remains wet for two to three minutes before final absorption. Avoid puddling or ponding; brush or broom to spread material until it thoroughly penetrates the surface. Block all drains and use absorptive coverings to contain run-off of excess material. Use soap and water to remove overspray as soon as possible.
Coverage Rates: Actual coverages will vary due to porosity of surface materials but approximate coverage is 100 - 150 sq. ft. per gallon. Note: Over application of material may cause darkening of surface.
Drying Time: One to two hours depending on temperature and humidity.
Clean-Up: Thoroughly rinse spray equipment with clean water.
Storage and Disposal: Do not store below 32° F. Dispose of this container and any unused product in accordance with all federal, state, and local regulations.
Helpful Tips: Protect surrounding vegetation. Wet leaves and greenery before and after application or cover with plastic. Asphaltic material may be damaged if soaked. Protect from run-off with drop cloths or other absorbent material. Most oil-based paints may be applied over Water Repellent for Brick after a 24 hour drying period.
PRECAUTIONS
Keep out of reach of children. Fire hazards are eliminated since Water Repellent for Brick is water-based and does not contain combustible or flammable, volatile organic solvents. Eye and skin irritations are greatly reduced. There is less risk to surrounding vegetation during application, and overspray on non-targeted areas can be easily removed with soap and water. Respiratory protection is not generally required during normal use and handling. Avoid breathing mists. Avoid contact with eyes, skin and clothing. Wash thoroughly after handling. Caution: Accumulation of product on ladders, scaffolding, etc. may result in a slippery surface.
FIRST AID
IF INHALED: Remove to fresh air. Get medical attention if symptoms persist. SKIN CONTACT: Wash with soap and water. Get medical attention if irritation develops and persists. EYE CONTACT: Flush with water for several minutes. Get medical attention if irritation persists. IF SWALLOWED: DO NOT induce vomiting. Rinse mouth with water. Get medical attention if symptoms develop. See Product Data Sheet and SDS for additional information on this product available at masonrysaver.com.
LIMITED 5 YEAR DURABILITY WARRANTY
Our recommendations for use of this product are based upon tests believed to be reliable. Since field conditions vary widely, the user must determine the suitability of the product for the particular use and specific method(s) of application. SaverSystems' warrants that Water Repellent for Brick will exhibit a water repellent effect on vertical surfaces for five years from the date of application if applied according to label instructions and if minimum application requirements are met. This warranty does not cover pre-existent flaking, spalling, abrading, faulty construction and/or other defects which might erode treated surfaces. If water repellent fails to perform as specified, SaverSystems will furnish, as the sole remedy, enough water repellent to correct the condition. This warranty does not include labor, or the cost of labor for the re-application of water repellent. SaverSystems shall not be liable for incidental or consequential damages, resulting from any breach of this warranty and fitness for use. Some states do not allow the exclusion of incidental or consequential damages, so the above warranty may not apply to you. This warranty gives you specific legal rights. You may also have other rights which vary from state to state.
Non-photochemically reactive
VOC Content: < 100 g/L